Easy Management on the Go
CT_School:

How to Use MetaMask on Mobile Device?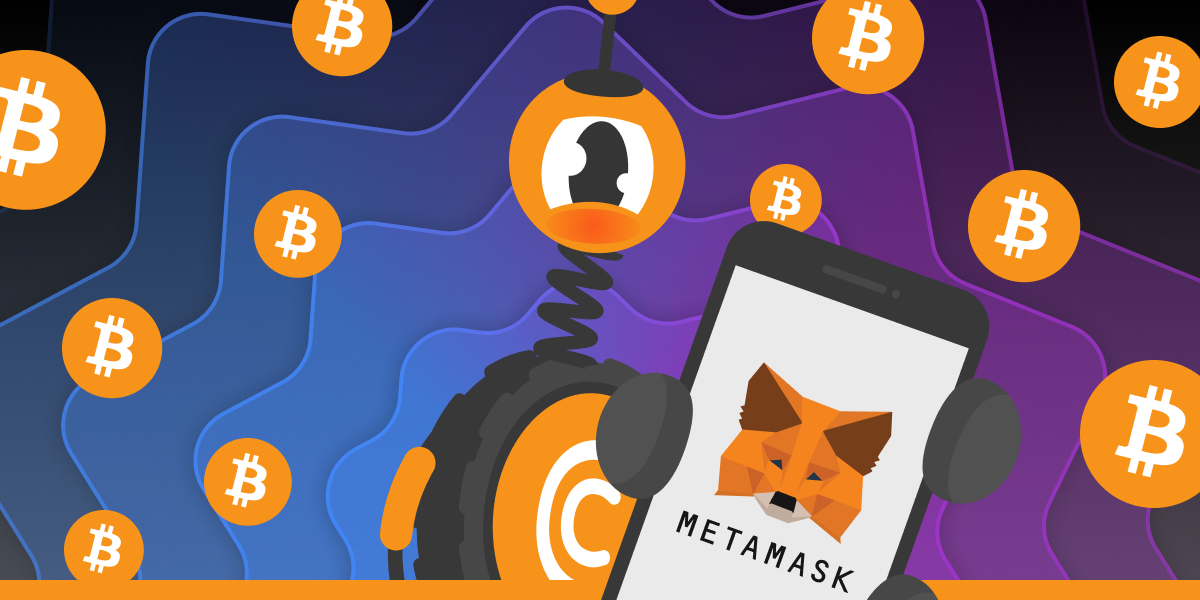 Did you know that MetaMask can be used not only on a PC? That it has its own built-in browser? Or that you can access CT NFT on your phone with it? That's right, it is all provided by the wallet! In this article we will talk more about the MetaMask app: what is it, what it has, and how to use your NFT for mining there.
Contents:
What is MetaMask App?
MetaMask app is a wallet and a browser in one: store NFT, buy, send, spend, exchange digital assets while interacting with various websites that work with blockchains, tokens, and so on.
How to Get Started in MetaMask App?
Creating a MetaMask wallet is simple and goes pretty much the same as on a Web version for a PC.
First Step: Download MetaMask on your mobile device: iOS or Android.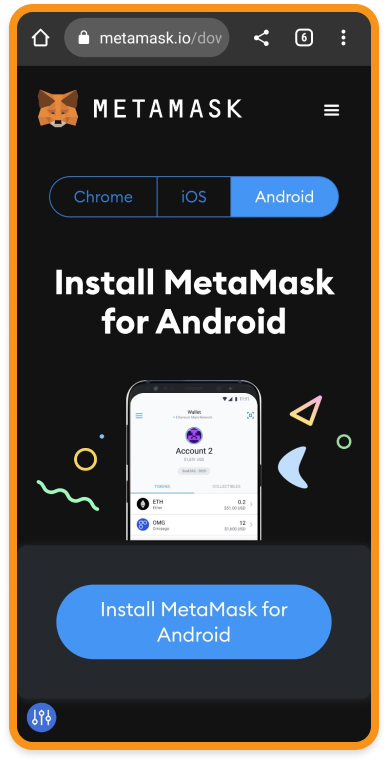 Second Step: Click Get Started and then Create a new wallet.
And if you already have the MetaMask wallet that you use on the PC, click Import using Security Recovery Phrase to access your wallet.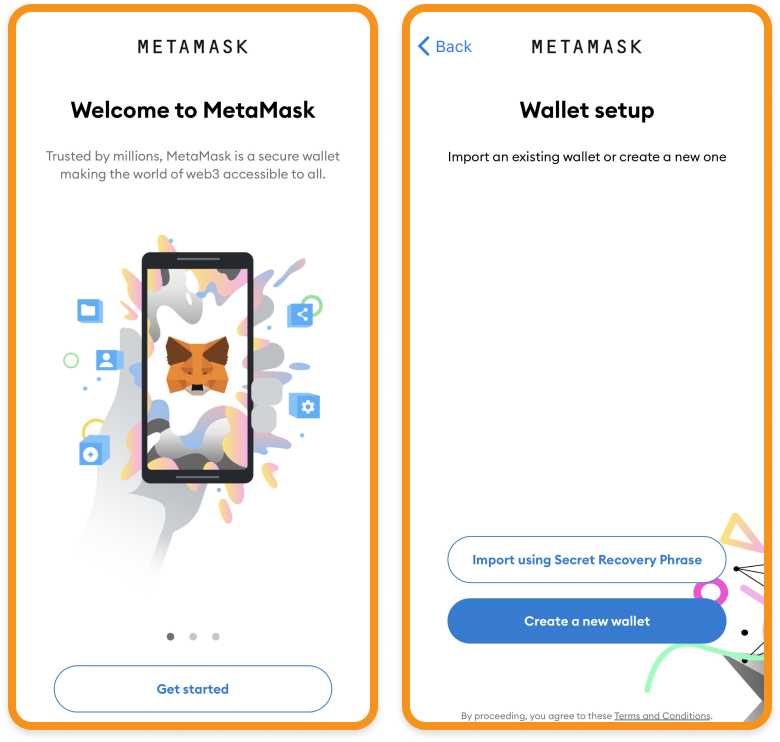 Third Step: create a password. Unlike on the Web, with the mobile version of MetaMask, you can turn on Face ID or Touch ID to unlock the wallet.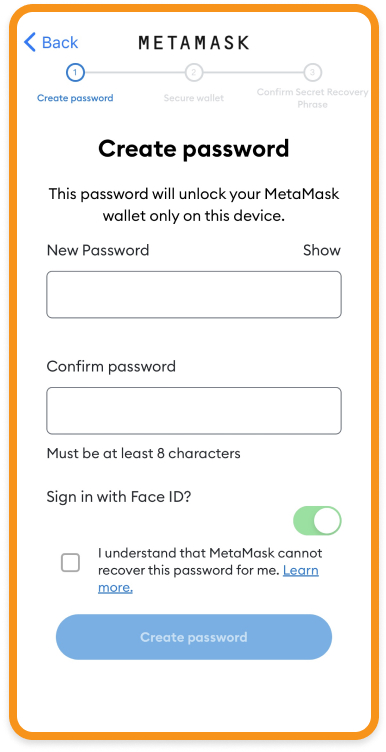 Fourth Step: the most important of all! In this one, you need to read, remember, and reproduce the given secret phrases! It is very important that you keep them as safe as possible because — anyone who has them can access your wallet and assets!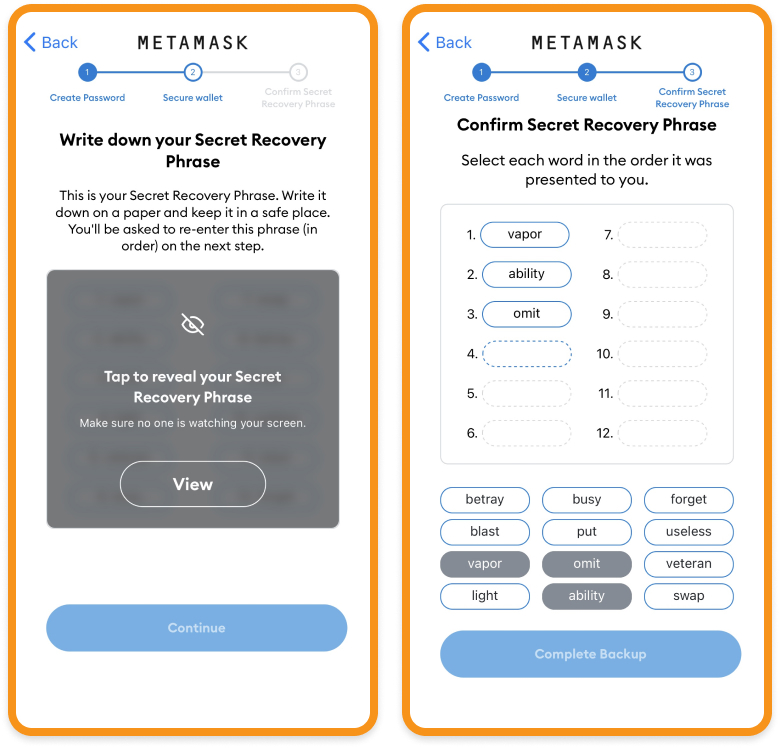 Once you put the phrases in the right order your signing into MetaMask is complete! Now you are the owner of the wallet in the MetaMask app!
What Is on MetaMask App?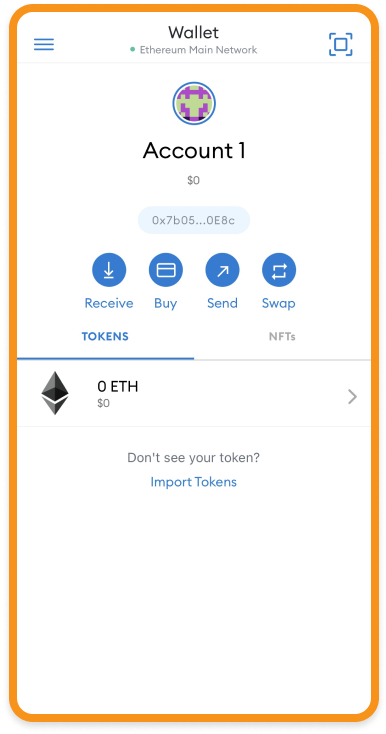 QR code scanner.
Use it to automatically put in the recipient's address.
Your wallet address. Click on it to copy.
Click Receive to find your QR code or to share the wallet address.
Click Buy to purchase cryptocurrency.
Click Send if you want to send your funds to other users or transfer them to your other wallet. Here you can also click on the square icon and scan a QR code to not put the recipient's address manually.
Click Swap to exchange cryptocurrency for another one.
In the Tokens section you can check cryptocurrencies on the wallet. In the NFTs section — NFT stored on your MetaMask.
Click on the icon with three lines to access the menu. Here you can find a browser, wallet, activity, and settings.
How to Connect MetaMask App to CT NFT?
First Step: download and create the MetaMask wallet on your mobile device.
Second Step: Go to the app menu and click Browser.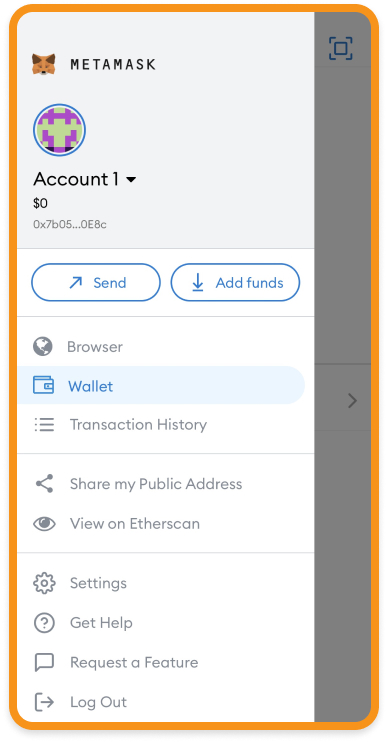 Third Step: Go to the CT NFT dashboard. There click Connect MetaMask.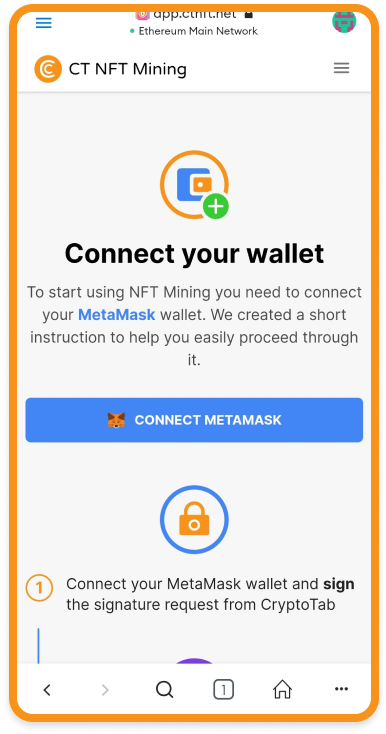 Fourth Step: Allow MetaMask to connect to the site and sign the signature request from CryptoTab.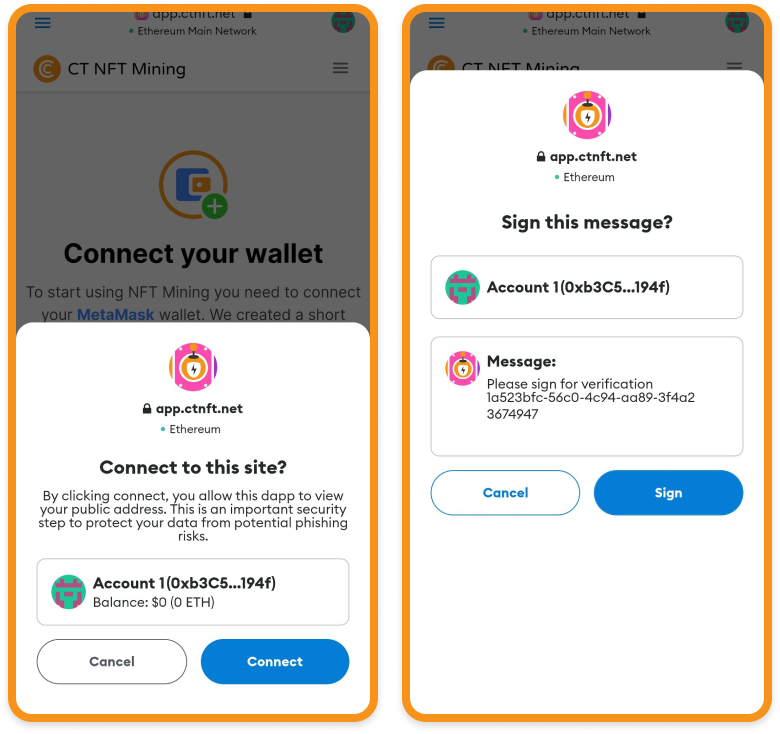 Fifth Step: Approve adding Polygon Network to the wallet and switch to it to make quick purchases with minimal commissions.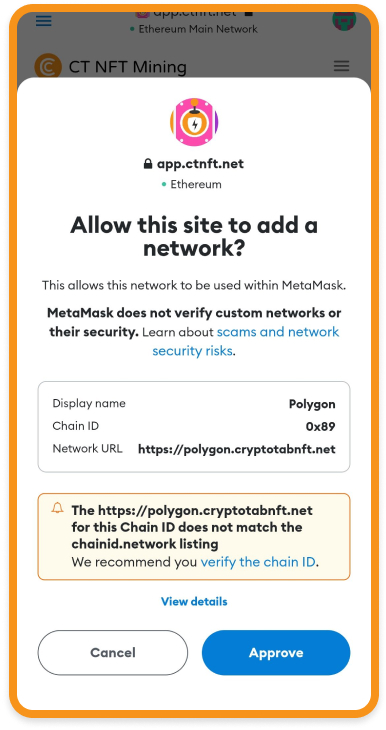 Sixth Step: Enter your email address in the appeared window. Then open the mailbox, find the letter from CryptoTab, open it, and click on the link to complete.
That is all! Your MetaMask app wallet is connected to CT NFT!
Now you are all set and ready! Access your wallet from anywhere on Earth: traveling, walking, or at home — you always can manage your savings and check how your NFT Mining is going! As easy and convenient as it gets!